Navy Installs Three Wind Turbines in Virginia Beach
On Friday afternoon, the Navy showed off three newly-installed wind turbines.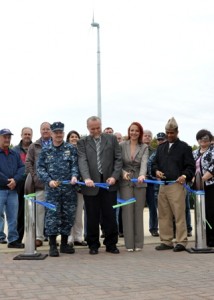 The ribbon cutting ceremony was held on Earth Day. The turbines are located at Joint Expeditionary Base Little Creek-Fort Story.
It's all to help the base move forward in becoming energy efficient by reducing its dependency on traditional energy sources.
The installation goal for the Navy is to have 50% of its bases become net-zero energy consumers by 2020. Since 2003, the base has reduced its overall energy consumption by 20%.
"We are committed to energy security, energy efficiency and environmental stewardship as a means to conserve natural resources, reduce greenhouse gas emissions and lessen dependence on fossil fuels," said Captain Charles Stuppard, Commander, Joint Expeditionary Base Little Creek-Fort Story.
The wind turbines are mounted 55 feet in the air and are configured directly into the installations power grid. They consist of three fiberglass blades.
Two of the turbines are supplementing power to maintenance facilities associated with the golf course while the third turbine is supplementing power to a Naval Special Warfare training facility. The cost to install the three wind turbines was $89,000.
Source: 13NEWS / WVEC.com